---
This is a true birth story from the Northeastern U.S. It occurred in 2012. The name of the midwife has been changed in accordance with the mother's wishes.
My first two babies were born, completely naturally and with no interventions, in a hospital with a fabulous CNM. They were both beautiful experiences. When I was pregnant the third time, my CNM had relocated to another state. I had been kicking around the idea of a homebirth for a long time, and since the only midwife that I trusted to provide a hospital birth that was up to my standards was gone, I decided to move forward with my homebirth plans.
When Susan walked into my house, she was not at all what I expected. She was young (my age, in fact) and exuded a natural air of serene confidence. She immediately made me feel at ease and was exactly what I was looking for: educated, competent, personable, and CRUNCHY. She patiently discussed every bulleted point on my checklist and answered every question thoroughly and to my satisfaction. I didn't need to interview anyone else. I had found my midwife and I was excited!
My pregnancy was the most blissful nine months of my life. I spent it reading up on homebirth, doing prenatal yoga, getting frequent chiropractic adjustments, and chatting with my midwife during our very informal appointments. I received no testing or lab work of any kind. I longed for a boy after having two girls, so I did have one ultrasound to find out the gender. I was elated when the scan showed us a healthy boy!
My due date of February 9th came and went. I wasn't worried, but my family became increasingly concerned. When I was over 41 weeks, my mom called to try to persuade me to go to a hospital for an induction. She said it wasn't normal to go this far with your third. I rolled my eyes and wrote her concerns off as "fear mongering."
When I was just one day shy of 42 weeks pregnant, I finally went into labor. My contractions became extremely intense very quickly. I told my husband not to call our midwife because I thought I was still early on in the process, but he called her anyway. An hour passed in waves of bone-crushing intensity and unfathomable pain.
I felt a release and called, "I think my water just broke!" from inside the pool. My midwife's voice replied, "It looks clear. I see lots of vernix!" I looked up, startled; I hadn't heard her come in. Just as I registered her presence, I felt an incredible urge to have a bowel movement. I summoned all the power and strength I had left to get out of the pool and head toward my bathroom.
I waddled to the bathroom and my entourage followed. I sat on the toilet and bore down. I was focusing all of my energy on relieving myself when Susan calmly said, "Just scoot your hips forward a little bit so that I can guide him so that his head doesn't go into the toilet." It took me a moment to absorb her words, and then it hit me: I was pushing! Just two hours before, I wasn't sure if I was in labor. It hadn't occurred to me that things had really progressed that quickly.
I was determined not to let my birth story include a toilet birth (and yes, I was thinking of my birth story while pushing!) so I got off the toilet and assumed the all-fours position. I pushed one time and his head was out. The time was called out, 4:15am. I was told that it would only be one more push and he would be here. I couldn't believe how easy it was! Only two hours of labor, one push and I was almost done!
I pushed with all of my might. I pushed again and again, with all the force and determination of a seasoned natural birthing mama. It was then that Susan said in a very level tone, "You know that I would never direct you if it weren't absolutely necessary. But this is important. I need you to do as I say right now."
I did as she directed, assuming an array of positions: one foot up on the edge of my tub while squatting, back on all fours, etc. All the while I was pushing as though our lives depended on it. It dawned on me what felt so different: as I pushed, I didn't feel any give. He stayed put, half born. He was stuck in limbo and I felt like I was pushing against a brick wall. I pushed and I pushed and I grunted, groaned and screamed. The pain was all consuming, beyond what I have ever felt in my life.
The situation was becoming grave. I saw it in the eyes of my husband and my midwife Susan. Terror was all over the face of her apprentice who had just arrived; she stood in the doorway, white as a ghost, shaking. It had been too long. My boy had to come out NOW if he had any chance of survival.
I felt a primal urge to stand up, so I put my arms around my husband's neck and stood to push with every ounce of motherly determination I had in me. Susan had to reach deep inside my body to hook my son's armpit and dislodge his shoulder from under my pubic bone where it had been stuck. The pain was breathtaking.
And then, relief! He was out! I had done it. 4:26am. Had it really only been eleven minutes since his head emerged? I had fought the battle of my life in only eleven minutes. Susan quietly said to her apprentice, "Go ahead and call." I didn't know who they were calling, or why. I collapsed onto the floor in a mix of exhaustion and relief. I looked at my newborn boy while Susan worked on him. I heard my husband ask with panic in his voice, "Is he okay? Why isn't he crying? Why isn't he moving? Is he breathing?" My husband was crying. I, on the other hand, remarked, "Look at all of his hair!" Disoriented from the birth, I didn't realize that he was still in mortal danger.
My mama eyes saw a beautiful, healthy baby boy. The reality was that my son had an APGAR of 2. He was grayish, limp, had no muscle tone, didn't cry, and didn't move. He required resuscitation and immediate transfer. Susan encouraged me to talk to him and touch him to encourage him to breathe as she performed resuscitation maneuvers.
The ambulance arrived and took my baby and my husband to the hospital. I stayed at home with Susan to deliver the placenta, planning to join them later.
The next thing I remember is waking up on my bed and Susan putting something in my mouth; she told me I had lost a lot of blood. I passed out again. The next time I came to, I was on a stretcher, rolling through my front yard in the freezing cold wearing nothing but a sports bra and covered with a sheet. Susan told me that I needed to go to the hospital for blood loss. I stayed awake for most of the ten-minute ambulance ride. I was weak and foggy headed; I felt like I was going to die. I didn't know where my baby was or how he was doing. I didn't know if he was alive or if he was going to live or if I would ever see him. I felt numb.
As we rolled through the hospital corridor, I was going in and out. I felt as though I was being dunked repeatedly under water, coming up for air and then going down again. I heard Susan say "Did you hear that?" I struggled to focus, "Hear what?' I asked. "Eleven two!" I was confused. "Eleven two what?" I asked, bewildered. "Eleven pounds and two ounces! That's how big your baby is!" It seemed impossible. Had I really just delivered an eleven-pound baby? My sweet boy was almost 4 pounds bigger than his sisters had been.
The OB on call was a compassionate and kind man. He asked Susan exactly what had happened. She shared all the details, timelines, and a rundown of the maneuvers performed. He commended her skillful management. He then examined me, stitched me up, and wished me well. I asked about my son. He said that he was being "worked on" and assured me that someone would send word just as soon as he was stable.
After he left, no one came into my room for a long period of time. I felt forgotten. I was still virtually naked. Bleeding. Cold. Numb.
After an hours-long wait the pediatrician finally walked in with an air of arrogance and declared (without introduction) that our son was going to be life-flighted to the regional children's hospital. My husband demanded to know, "Why? What is wrong with him? No one has told us anything!" The pediatrician coldly stated, "He is displaying several alarming symptoms. He's got a 'thousand mile stare.' He has absolutely no suck reflex at all. He keeps his hands balled up into fists with his thumbs tucked in. It could be a number of things: seizures, oxygen deprivation, brain damage… I just don't know. We don't have the diagnostic equipment or personnel here to properly treat such a complicated neonatal case." And with that, he left the room.
My son was over five hours old, being prepared to fly in a helicopter to another city, thirty miles away without me, and I still hadn't held him. I didn't remember what he looked like. I wanted to see him. My husband tracked down a nurse and told her that we needed to see the baby before he left. She was very kind and brought a wheelchair and a gown (I was STILL naked!) and wheeled me to where he was.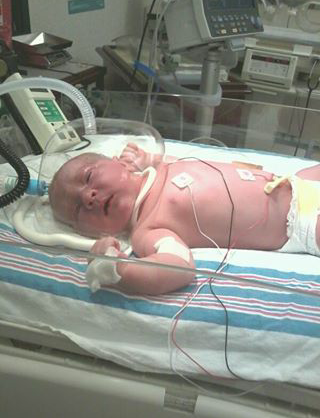 He was massive! Much bigger than I had realized. He was pink now. He had monitor wires coming off of several points on his body and a bubble around his head providing oxygen. I was told that I couldn't hold him and only had a second because the flight team had arrived. I touched his foot, told him I loved him, snapped a cell phone pic, and I was wheeled away.
I don't remember when I passed out again, but I awoke to a strange sensation: someone else's blood being pumped into my veins. It was cold and I could feel it pulse all through my body. I ended up with three bags of blood. After the blood transfusions were complete, I felt like a different person. I was able to sit up without passing out. I no longer feared that I would die. I was too badly swollen to pass urine so they had to catheterize me. How ironic: I had birthed twice in a hospital with no IVs, monitors, medications or catheters. Now, I had received all of the above and more, after my HOME birth!
When was finally released days later I got to Children's as soon as I could. I walked into my son's room and sat down by his bedside. I felt so disconnected from him, this baby that I had birthed, but hadn't gotten to know. I finally got to hold him at nearly three days old. When I held my son in my arms, I cried for the first time. He was real. He was alive. I was alive.
My son suffered from hypoglycemia and had a "rough transition" due to the trauma of his birth. He had limited range of motion (and a gnarly bruise) in the arm that was stuck, but by the grace of God, he had no broken bones. He showed no signs of brain damage after that first day. It was truly miraculous that he came home only four days after his birth.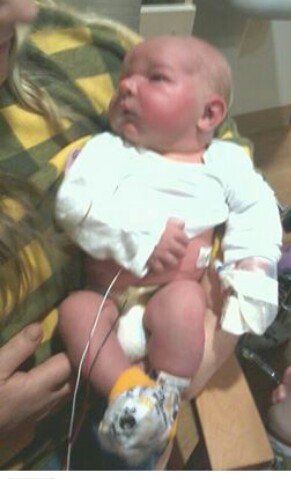 He did require some therapy to gain full use of his left arm, but it rebounded quickly. We were warned that he might suffer from some learning or behavioral issues as he gets older due to his early oxygen deprivation. We were also told to really watch his milestones and development, to make sure to never miss a well-child check-up, and to pay attention to any signs of developmental delay.
I am so happy to report that my sweet handsome boy has shown absolutely no signs of any delay or disorder. He has full use of both arms and is as active as any three-year-old boy. He is the light of my life and I thank God every single day for all the miracles that have brought him to where he is today.
Susan and I remain dear friends. She was an absolutely invaluable support to me in the days, weeks, and months after my birth ordeal. I'm thankful that even though I made a questionable choice to birth at home, I was assisted by someone who had the skills and knowledge to help save me and my son, and the compassion to help me through the tough times afterwards.
If I could go back and do it over again, knowing what I know now, I never would've attempted to even birth him vaginally, much less at home. But all the decisions that I made back then were made out of genuine care and love. I agonized over every choice and made the ones that felt right to me at the time. I fell right into the same trap that many women do. I believed all the lies: "Your body won't grow a baby too big for it to birth." "Birth is as safe as life gets."
I wasn't purposely conned or deceived. My midwife didn't willfully lie to me. She is a wonderful person, who wholeheartedly believed everything that she told me. She is a victim of the same mindset that led me to birth at home, at 42 weeks pregnant, an eleven-pound baby.
If you had told me in 2012 that birthing at home was a poor choice (and many people did), I would've argued with you. I BELIEVED in what I was doing. If you had told me that my son was going to be too big to birth safely, I would've argued with you. I BELIEVED that wasn't possible. I was idealistic. I was convinced. I was brainwashed. I was party to a big lie. Now, my eyes are open, but my heart hurts for all the women who will have to sit in a NICU or at a gravesite because they believed the lie.
A Hard Way To Lose Your Birth Idealism